What kind of ads do you offer?
We offer banner advertising, email advertising as well as inline text-link ads based on keywords you choose. Pricing for banner ads are priced based on impressions, email ads are based on how many emails are sent with your ad, while inline contextual ads are priced per click and the user ending up on your site.
What is the cost?
Banner Ads
Email Ads
Inline Contextual Ads
Will my ads ever be displayed if I'm never the highest bidder?
Yes, there is a diminishing logarithmic scale used to determine which ad will be displayed. For example the #1 bidder might have a 60% chance for their ad to show, the #2 bidder might have a 25% chance and the #3 bidder might have a 10% chance, etc. Note: these are not actual percentages used, just an example for illustrative purposes.
What sizes and specs are the banner ads?
We currently run the banner ads in 2 different sizes: 468×60 within certain posts and header and one that is 728×90 below certain posts. Banner ads can be text-based or image based (GIF, JPG and PNG are supported). We do not offer ads based on Flash at this time.
Will my banner ad be shared with other advertisers?
No, the ad space you purchase is not shared with any other advertisers.
Can I show ads only to users in certain geographic regions?
Yes, you can geotarget your banner ads to specific countries if you wish.
Do you have any demographics for your user base?
Of course… This site is technical in nature and very business oriented. Our users tend to be affluent business owners between the age of 18 and 34. In the last year, we had visitors from 236 countries/territories (as defined by Google Analytics).
Age
Income
Education
This map shows where visitors to our site are from: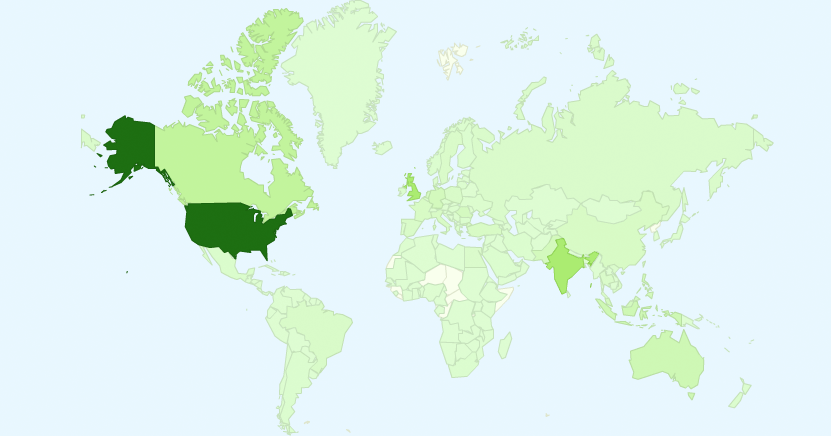 What else can you tell me about your site?
digitalpoint.com is the largest webmaster/search engine optimization related community on the Internet. digitalpoint.com also contains one of the largest marketplaces for services, sites, domains, etc. This is how it compares to some of the top sites out there (higher is better):

What kind of ads are allowed?
We have the final say on what ads are allowed and which ads are not. A good baseline to follow is no porn, no pharmaceutical, nothing illegal, etc. We review ALL ads before they are allowed to go live. If you are unsure if your ad would be approved, simply create the ad and it will automatically be put into the review queue (you don't need to fund your account to create ads and have them reviewed).
Can I limit how much I want to spend per day?
Yes, you can limit how much you want to spend on a per advertisement basis. You can also limit your daily spend as a whole on your account (across all ads).
If there is a page that displays more than 1 banner ad, would I get charged two impressions if my ad occupied two spots?
No, our system does not allow the same ad to be displayed on the same page more than once.
What if I have two different banner ads that could display on the same page?
The system makes it so only one of your ads will be eligible to be displayed per page. This prevents you from being charged for two spots on a single page (even if they are different ads) and more importantly prevents you from bidding against yourself for ad space.
Am I going to get charged for non-humans clicking my link or viewing my ad?
No, we filter search engine spiders and other non-human traffic so you will not be charged for traffic generated from automated processes.
How much detail can I view about clicks and impressions?
You can view exact details about every click for your ad for the last 7 days (including IP address and user agent). You are able to see detailed impression data for the last 7 days, but you are not able to view data that would expose who the user is (IP address for example) for privacy purposes. You can always see daily summaries going back as far as you wish.
What type of payments do you allow?
Currently we allow you to fund your advertising budget with PayPal.
Can you bill us monthly for advertising?
No, sorry. Currently advertising is prepaid (with a $25 minimum funding amount).
I still have questions, who can I talk to?
You can get support with this form here.
How do I get started?
You can find everything you need at the top of this page in the navigation (under the "Advertiser" area).
Related articles
(Visited 63 times, 1 visits today)